Sunday's - We're Back in the Sanctuary!!!
Join us on Facebook Live or Audio Only Conference 1-503-300-6873 [Code: 721633]
Sunday School - 10:00 am
Sunday Worship Service - 11:00 am
Spanish Sunday School - 2:00 pm
Spanish Service - 3:00 pm

Mid Week Bible Study - Join us via Facebook Live or Audio Conference. Due to the recent surge of Covid-19 cases, we have moved our services to a virtual platform until further notice.
English Services - Pre Service Prayer Begins at 6:30 pm | Bible Study Begins at 7:00 pm (Audio Conference & Facebook Live is still available)
Spanish Services - Wednesday's 7:00 pm

We have policies and procedures with you in mind during the COVID-19 pandemic
The Church of Ephesus have followed guidelines by re opening the sanctuary with Phase 1 starting May 17, 2020.
During this phase, Sunday Services are held in the sanctuary and will continue to be made available online via Facebook Live and Audio Conference.
What we're doing with you in mind:

Our cleaning team will continue to sanitize common areas and surfaces before each service

We're asking everyone entering our sanctuary to sit six feet apart

We're asking everyone to socialize outside wearing a mask and at a distance of six feet

We're limiting occupancy in small rooms within our facilities

We're providing mask for individuals to wear during service as necessary

We're providing Hand Sanitizer as you enter our facilities
What we're asking
Please use discretion if someone living in your home has a compromised immune system.

Please stay home if you or any family member is not well or have symptoms outlined by CDC.
As communities continue to re-open, we must all do our part to protect ourselves both in
and away from the church.
Wash your hands

Practice respiratory hygiene by wearing a face mask in public or near others outside your home

Maintain social distancing by staying six feet apart from others

Use sanitizer frequently and reduce touching common surfaces
Prayer
Pre-Service Prayer - Sunday's 9:30 am & Tuesday's 6:30 pm
Spanish Prayer - Friday's at 7:00 pm
Church Wide Fasting/Prayer - Last Week Monthly - TBA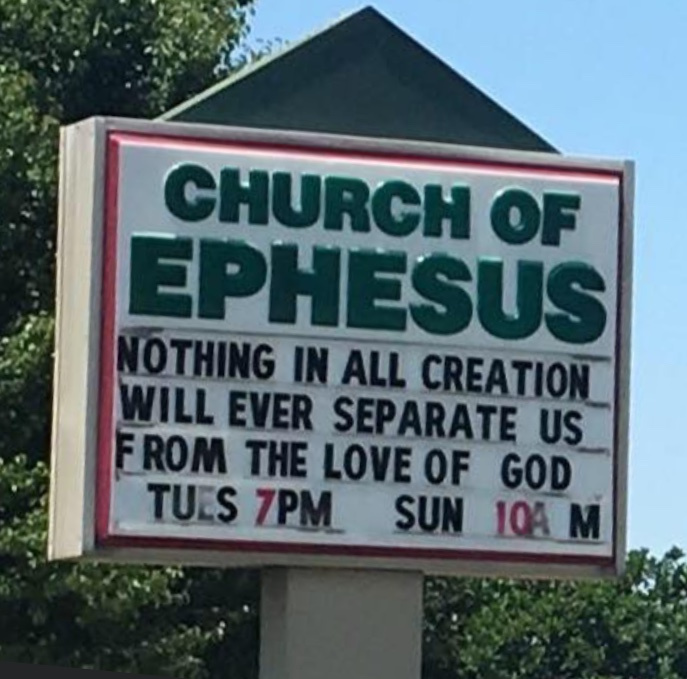 Thank you for visiting our website! Please look around and get to know our church. If you are looking for a church home, we invite you to attend our services. The Church of Ephesus is filled with people who are ready to welcome you with open and loving arms. Come and Experience Jesus With Us!
We Pray Together Aloud Because… In the Bible we read, "they lifted up their
voice to God with one accord". Acts 4:24
We Lift Our Hands In Praise Because… In the Bible we read, "Lift up your
hands in the sanctuary, and bless the LORD." Psalm 134:2
We Sing With All Our Hearts Because… In the Bible we read, "Make a joyful noise
unto the LORD, all the earth: make a loud noise, and rejoice, and sing praise." Psalm 98:4
We Play Musical Instruments Because…In the Bible we read, "And all the house of
Israel played before the Lord on all manner of Instruments." II Samuel 6:5
We Clap and Shout Unto God Because… In the Bible we read, "O clap your hands,
all ye people; shout unto God with the voice of triumph." Psalm 47:1
We Dance Before the Lord Because… In the Bible we read, "Praise him with the
timbrel and dance: praise him with stringed instruments and organs." Psalm 150:4
We Testify Publicly Because… In the Bible we read, "I will declare thy name unto my
brethren; in the midst of the congregation will I praise thee." Psalm 22:22
We Anoint With Oil For Divine Healing Because… In the Bible we read,
"Is any sick among you? Let him call for the elders of the church; and let them pray over him, anointing him
with oil in the name of the Lord." James 5:14
We Allow the Operation of The Spiritual Gifts Because… In the Bible
we read, "When ye come together, every one of you hath a psalm, hath a doctrine, hath a tongue, hath
revelation, hath an interpretation." I Corinthians 14:26
We look forward to meeting you soon.

In His Name,

The Church of Ephesus Family